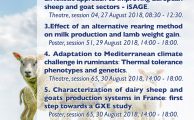 iSAGE Presentations at EAAP Annual Meeting 2018
The 69th Annual Meeting of the European Federation of Animal Science (EAAP) will take place in Dubrovnik, Croatia, from the 27th to the 31st August 2018.
iSAGE Field Studies in Greece
iSAGE Coordinator (AUTH) has recently conducted new field studies in Greece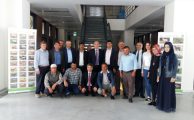 iSAGE Turkish Partners' Workshop at Nigde Omer Halisdemir University
The workshop "Assessment of feeding alternatives in sheep and goat farms in Turkey" was held on the 27th April 2018 in Nigde, Turkey, at Nigde Omer Halisdemir University.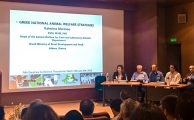 iSAGE at DairyCare final conference
The EU COST action DairyCare – focused on dairy animal health and welfare and particularly on the use of technologies to assist good husbandry – held its final conference in Thessaloniki, Greece, on 19th and 20th March 2018.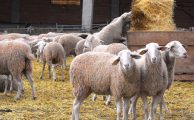 2018 iSAGE Summer School (Zaragoza, Spain, 21-23 May)
The iSAGE project has organized the summer school: "Approaches to innovation and research for the sustainability of sheep and goat production systems" (Zaragoza, Spain, 21-23 May 2018).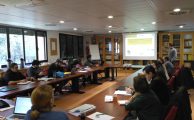 2nd Workshop of iSAGE Spanish Partners at INIA
On the 2nd of February the iSAGE Spanish partners held their 2nd workshop at INIA, in Madrid.
iSAGE events in Toulouse: Modelling Workshop; 1st Project Review; WP Leaders & Industrial Partners Meeting; Visit to Project Farms
The iSAGE consortium recently held 4 meetings in Toulouse, France: Tuesday, 21st November: Modelling Workshop;   Wednesday, 22nd November: EC Project Review;  Thursday, 23rd November: WP Leaders & Industrial Partners Meeting; Friday 24th November: Visit to Farms involved in iSAGE activities.
iSAGE introduces innovation in a Turkish sheep farm
In the framework of iSAGE work plan, ATAUNI recently applied an innovation in a Romanov sheep farm in Cerkezkoy, Istanbul. The introduced innovation tested the estrus synchronization protocol in a prolific sheep flock.
iSAGE sustainability assessment in Greek goat farm
A sustainability assessment was recently conducted by members of the AUTH team, who visited an innovative goat farm in Florina, in north western Greece.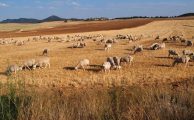 iSAGE Workshop On Reaction Norm Models
The workshop "Training on Reaction Norm Models" was held on the 4th and 5th April 2017 in Madrid, Spain, at Instituto Nacional de Investigación y Tecnología Agraria y Alimentaria (INIA). This workshop was organized as part of the activities developed within iSAGE Task 5.1 "Animal phenotypes for resilience, adaptability and sustainability".