One of the goals of Work Package (WP) 2, of the iSAGE project is to identify in greater depth geographic, demographic and other socio-economic variables and understand their impact on farmers and the whole supply chain of the whole sheep and goat production sector.
One of the main players of the sector is farmers. Thus as part of WP2, the iSAGE project will gain the perspectives and experiences of farmers in different countries of the Europe.
Below are some images from the farm visits for the preliminary qualitative farmer survey which is part of Task 2.1 of WP2.
FRIZARTA Cooperative Farms
Amyntaio Cooperative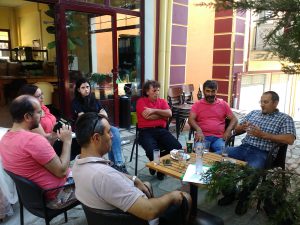 Transhumance Sheep and Goat Union
Kalarites, Greece
Interviewing two generations of farmers. Recording the life experience of a 100 year old sheep farmer and his son in the mountainous area of Tzoumerka, Greece.